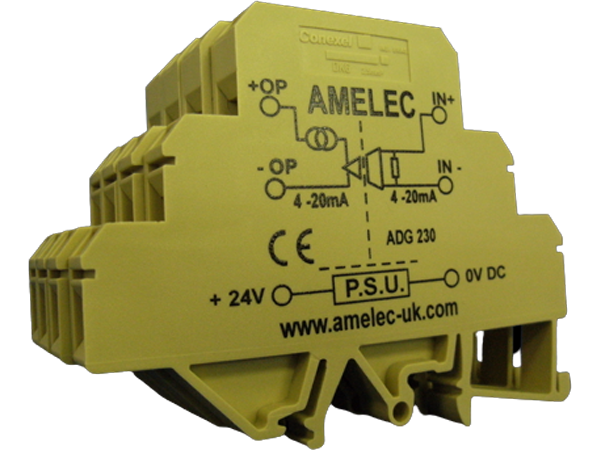 Our ADG124 is a universal Din Rail Mounted (TS32 G-Rail or TS35 Top-Hat) ultra compact pulse isolator/repeater which is suitable for use in SIL1, SIL2 and SIL3 rated Safety Instrumented System (SIS) loop applications (EN 61508-2).
Innovatively integrated isolation and 1:1 conversion of standard current signals. Boasting a ultra-compact design within a 10mm wide clip on terminal style enclosure, it makes for easy setup, efficiency in power consumption and eliminates ground loops and measurement of floating signals.
Input: Nominal 24V pulse as standard. (Min 12V / Max 30V). Loading effect 30µA @ 24Vdc. Amplitude range 5V to 30V. Frequency 0~1000Hz. Other input range & types available at request.
Output: 0V or 24V pulse, repeat of input (Input detection threshold at 12V as standard). 24V pulse at up to 6mA drive. Other output range & types available at request.
All AMELEC manufactured instruments are supplied calibrated to customer requirements, calibration certificates traceable to national standards are available on request at time of order.
Dummy units available if planning for future expansion.
Environmental Condition
General Specification
Mounting/Dimensions
Environmental Condition
Storage Temperature: -40 to +80°C
IP Rating: IP20
Operating Ambient: -10°C to +70°C
Relative Humidity: 5% to 95% RH (Non-Condensing)
General Specification
Mounting/Dimensions